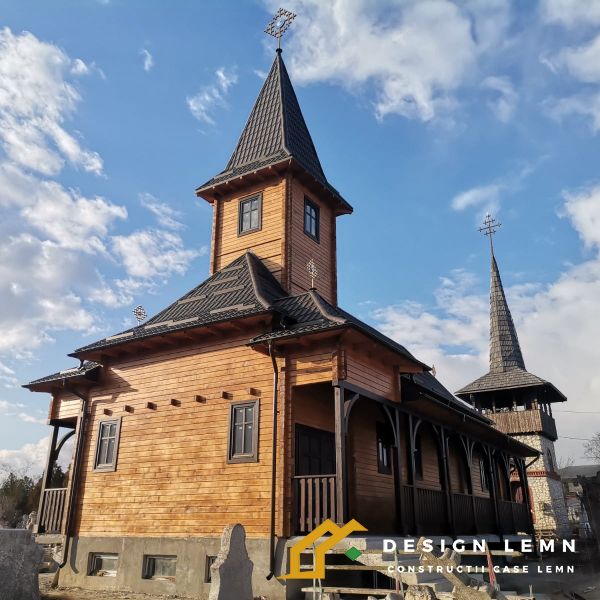 Fir wooden church Constanta
Availibility:

Custom

Categories :

Wooden Churches
Fir wooden church with a total surface of 174.15 sqm from which the altar has 8.83 sqm. This is a place of simple and minimalist worship place, that is built relatively fast and with low costs. The wooden churches represent places that offer warmth, tranquility and the feeling of home, stimulating for introspection and meditation.

Depending on your demands the project of the church can be modified. The fir wooden church is going to be made according to a design done together with our team and that responds in the smallest details to the needs of the customer and the community.
You can see the price list of Home Lemn Design if you click
here
More details about this product can be found below.
- imprint: 9m / 19.350m, from which the altar 4.980m / 3.850m (174.15 sqm)
- wall thickness: 120 mm solid wood (double tongue and groove joint technology)
- 3 doors wooden triple glazed
- 16+ 3 windows triple glazed
- complete roof with with metal sheet of 0,5 mm
- fitting
- interior walls insulation
- staining of wood
- interior floor
- shutters
- electrical wiring and sanitary group (we don't carry out electrical or sanitary installation works)
- foundation (we don't make foundations)
- transportation (will be calculated depending on distance)

1. The documentation (the project, the plans), the approvals and authorizations are the responsibility of the beneficiary
2. The foundation (plate), the electric wiring and the piping are provided by the owner
3. The completion period is between 30 and 90 days starting from the day of the payment of the 40% advance. The next payment of 50% will be made when receiving the KIT (transportation) and the remaining 10% on assembly.
4. The beneficiary will provide the accommodation and a meal / day for the assembly team.